The pleasant experience of no travel destination is complete until you spend a while exploring the local streets to shop for things that are special about that place. The souvenirs you bring back from your tours later become the fondest memories of your travel experience.
Shopping at the local shops on the streets in Kathmandu is one of those experiences that are destined to leave you spellbound and contented.
This article brings you the top 10 places to shop at in Kathmandu, along with some handy shopping tips. Read on!
Complete guide to shopping in Kathmandu
Here're the awesome things you can purchase when in Kathmandu. The city has a wide range of merchandise to buy, from Buddhist paintings to aromatic spices, trekking gears, and more.
1. Thangkas and paintings
Beautiful paintings and Thangkas are made on fabrics like cotton and silk. These can be bought along with a wide range of the Tibetan Buddhist wall paintings, which are highly fancied by visitors in Nepal. Similar to a Chinese scroll, the motif paintings of Tibetan Buddhists are generally kept rolled up along with a silk cover on the top.
Also, these delicate and unique pieces of art represent Buddhist teachings and have astonishing embodiments such as the well-celebrated Bhavachakra or the wheel of life.
When in Kathmandu, you can purchase these at the local Sagarmatha Bazar, one of the most sought after shopping regions in Kathmandu.
Where to shop: Sagarmatha Bazar
2. Singing Bowls
For those who love taking sophisticated souvenirs back home from Nepal, the Singing Bowl is one of the most elegant options to buy. The Singing Bowl, which was earlier used for religious practices of the Buddhists, have now become extremely popular since they come handy while meditating and relaxing. Almost all leading handicraft shops in Kathmandu offer a wide range of singing bowls you can buy.
Where to shop: Thamel
3. Bead, Bone, Silver, and Stone Jewelry
In general, Kathmandu is a retreat for every gemstone connoisseur out there. The city's local markets are packed to capacity with an excellent range of stone jewelry and beads, making Kathmandu a haven for jewelry shoppers.
It's a hub of semi-precious stones, and all professional collectors know it inside-out. Head to Thamel or any nearby street to buy some unique and masterly-designed jewelry at the most competitive market prices.
Also, it is a globally-acclaimed center of silver jewelry, and you'd surely not return disappointed. The city is also known for custom-designed jewelry, and if you have a design concept in mind, Thamel is just the right place for you to transform your idea into reality!
Where to shop: Thamel
4. Dolls and Puppets
Nepalese dolls and puppet are a quintessential symbol of the Nepali tradition and culture. They are a quick and easy way of representing the traditional, heritage Nepali culture through the colors and dresses used.
Typically, the puppets are vintage handmade items usually made of wood, cotton, and fabric. The string puppets not just look adorable but are also the most beautiful souvenir objects you can take back home as a lifetime memory.
Where to shop: Durbar Square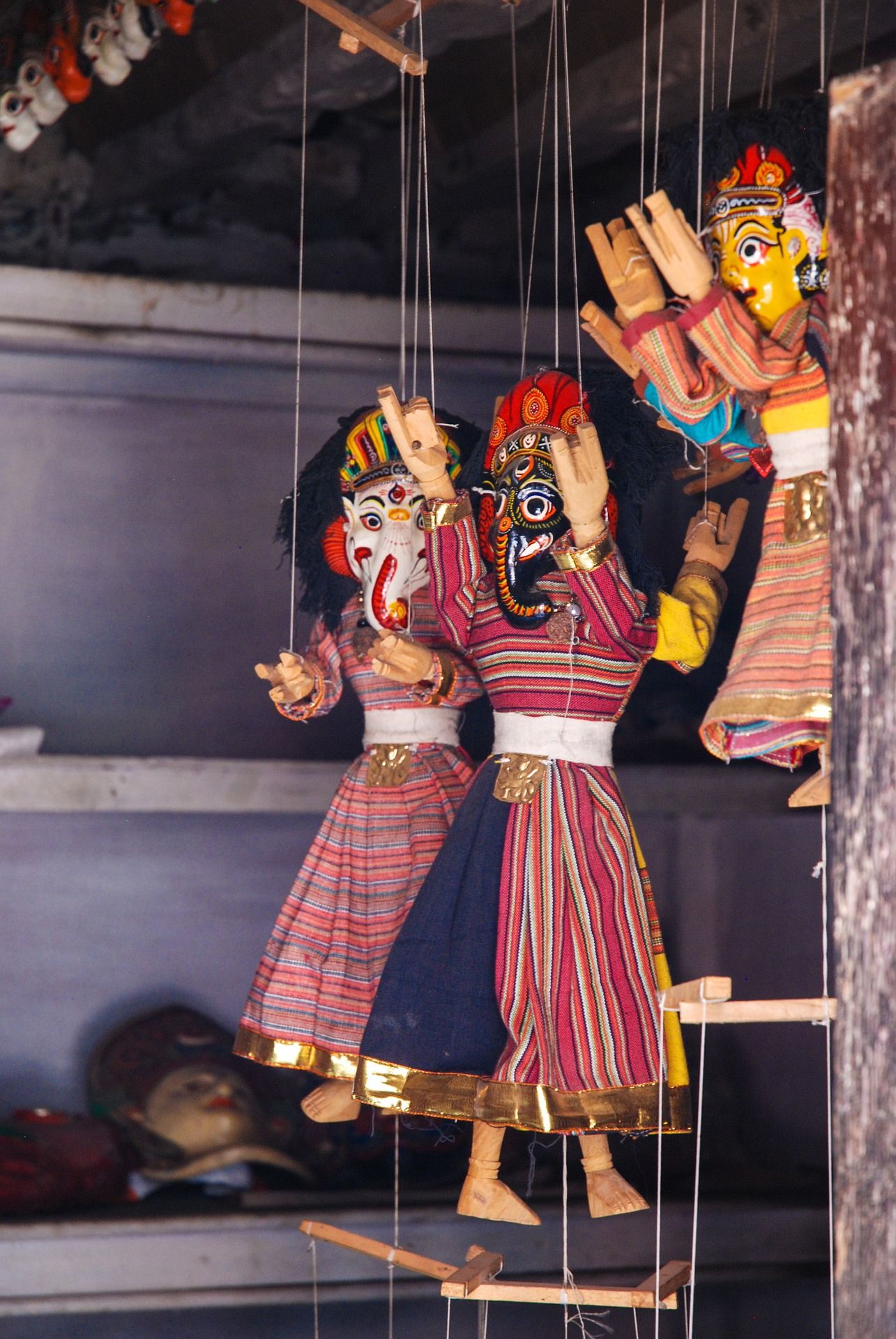 5. Incense Sticks and Spices
If you feel fascinated and allured by different aromas, then Asan Tole should undoubtedly be on your itinerary when visiting Kathmandu. Here, you can choose from a wide range of incense sticks available. Along with incense sticks available in different aromas, Asan Tole is also famous for its aromatic spices.
Here, the main bazaar (market), i.e., from Indra Chowk to Asan Tole, is packed to capacity with an exquisite range of spices you can buy. Walk unhurriedly across the fragrant alleyway, and experience a fantastic street shopping.
Where to shop: Aroma Garden and Asan Tole
6. Pashmina Woolens
For decades now, pashmina weaving has been an integral part of the Nepali culture. Therefore, you can notice a lot of street stores flaunting pashmina shawls and scarves in Kathmandu. Pick up the color and design you prefer and try a bit of bargaining as the shopkeepers generally tend to charge a little extra from overseas visitors.
If you are in quest of luxury shopping, visit the shopping malls such as the Sherpa Mall and the Civil Mall to purchase some branded merchandise while on your tour to Kathmandu.
Where to shop: Sherpa Mall and Civil Mall
7. Khukuri (Gurkha Knife)
The Gurkha knife, also known as the Khukuri, has an inward-curve blade and is the traditional Nepali knife. Along with serving as a Nepali weapon, the Khukuri is also a cultural object of the Gurkhas and is commonly-used in Nepali marriage ceremonies as well as several other rituals. You can purchase the Gurkha knife from any souvenir shop in the city.
Where to shop: Thamel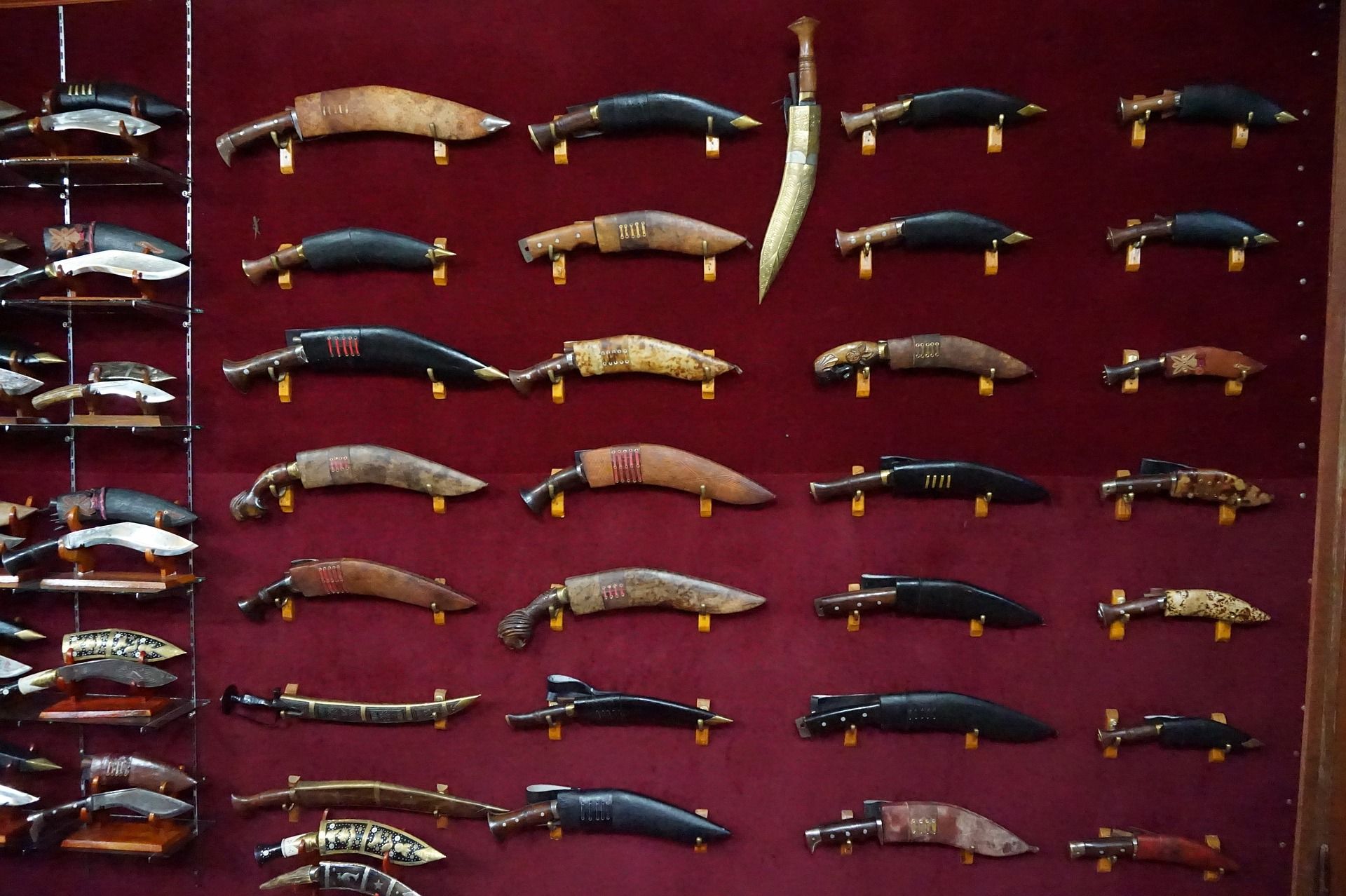 8. Traditional Nepalese Clothing
If you prefer some truly Nepali flavor and trends, then these colorful traditional Nepali clothing items are worth a try. Shopping for clothes in Kathmandu can be truly fun since there are plenty of options available.
In general, the male traditional Nepali clothing is referred to as the Daura Suruwal, while the women's traditional dress is known as Kurta Suruwal. Also, the Dhaka or the Nepalese topi (hat) will be a great option when shopping in Kathmandu.
Where to shop: Baber Mahal
9. Cultural Handicrafts
Traveling to a culturally-rich place like Kathmandu can never be considered as complete unless you shop in the city. Shopping for cultural handicrafts is a handy way to bring the memories of your Nepal visit back home and cherish them for the rest of your life.
While wandering along the streets in the city of Kathmandu, you will find numerous stores that provide a wide range of ethnic items at the most competitive market prices. The Buddha statues, prayer flags, and all will cost you no more than a penny if you can bargain well.
Where to shop:  One Tree Stop and Lazimpat
The bottom line
You would surely want to purchase something you can take back home as a memory of your visit to Kathmandu. Perhaps some pashmina scarf or the Nepali Topi can be an excellent gift for your friends or family. Whatever the case, the city offers a wide range of items you can shop for while scrambling across the local street bazaar.
Enjoy shopping!